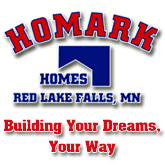 Watch the factory tour video at the bottom of this page.
The Home Marketing Company (Homark) was founded in 1986. In 1991 Homark became a 100% employee owned company with corporate headquarters and production facilities located in Red Lake Falls, MN. Our 95,000 square foot production facility has been producing quality manufactured homes since 1959 and has produced over 36,000 homes, which can be found all over the Continental US , Alaska, and Canada.
Quality is the foundation every Homark home is built upon. Every home is constructed in our indoor, climate controlled production facility. We use quality building materials from suppliers you know and trust. Some of our suppliers include:
Tyvek – Housewrap
Certainteed – Shingles and vinyl siding
Guardian – Fiberglass insulation
National Gypsum – Drywall products
Shaw – Carpeting
Congoleum – Vinyl sheet flooring
Briggs – Toilets and Bathroom Sinks
Midcontinent – Cabinets
Formica and Pionite Countertops
Whirlpool – Appliances
Design House – Light fixtures
Our homes are built to exceed IRC, HUD and CSA building codes. Each home is inspected by our in-house Quality Control inspectors as well as an independent third party inspector. Homark stands behind our homes with an industry leading warranty which includes: one year on materials and workmanship, two years on mechanical, plumbing, and electrical systems and ten years on structural components.
One of our experienced retail sales representatives will be able to guide you through the building process from ground breaking to the final walk through. Starting with our fully customizable floor plans and our wide variety of options, each Sales Center will take great pride in assisting you with the design of your next home. We can also assist in your home buying experience by exploring financial options with you. Once the design of your home is complete, a pre-construction meeting will be held prior to the start of construction to ensure every detail of your new home is exactly the way you want it. During the construction of your home, we also encourage you to visit our manufacturing facility and inspect your home as it is being built. When the construction of your home is almost complete, one of our Retail Sales Center staff will inspect your building site to insure everything is in order for a quality and timely set up. After your new home is set up, a Sale Center representative will do a final walk through with you to answer any questions you may have about your new home and address any punch list items that may have arisen. From the first time you walk through the doors at one of our Sales Centers until the first time you walk through the door of your new home, we at Homark, will take great pride in "Building Your Dream, Your Way".